Friends,

Looking for some help. . . . .



1987 - 1992
S-10
Chevrolet "Extended" Cab Pick-up Truck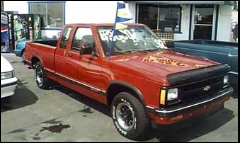 The above picture depicts the general look of
a 1987 -1992
Chevy S-10
or
GMC Sonoma S-15
pick-up truck
The truck pictured is 4 WD. . . I would prefer 2 WD. . but whatever????
My plans???? In a 5 year period I put approximately 150,000 miles on the vehicle I drive to work. Many times during the winter I need 4 WD. For the most part, however, I drive in 2 WD. The cost of replacing even a small 4 WD vehicle has gotten ridiculous.
My plan. . . . get an older 2 WD small GM extended cab pickup (for the leg room). . . . install a ported F.I. V-8 (I have it) and drive the truck when the weather is good. . .. park the 4 WD and drive it only when the weather dictates.
I am looking for one with a near mint body. I am not concerned with condition or type of transmission or engine. Although I would prefer a 4.3 liter engine with a 700R automatic transmission with 2 wheel drive. I don't even care if the engine/transmission runs or even if it has one!!!
What must it have:
A/C
tilt steering
power steering
What would I like it to have:
power windows
power locks
cruise control
power brakes
CD player
What is the over-riding factor???
Must be either

towable or
driveable from your location to mine


Price range. . . not to exceed $2,500.00



THANKS FOR THE TIMEAND
HELP!!!!!