United States Marine Corps
Helicopter Squadron
HMM - 161
"Phrog Phlyers"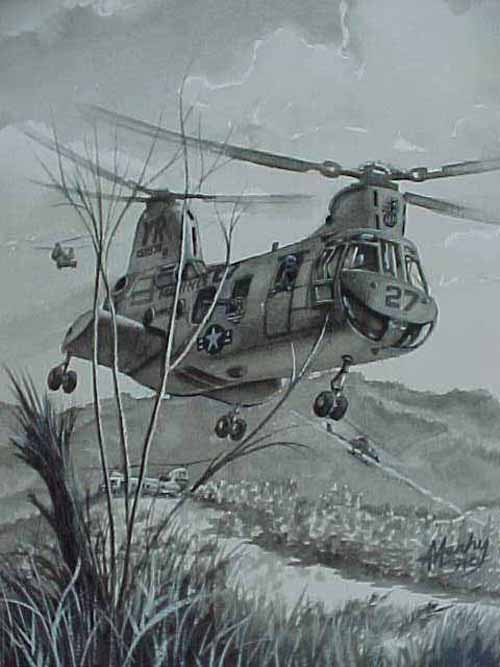 This page is dedicated to all of us who served with the first
Marine Corps Helicopter Squadron
---
The "Phrog"
due to its posture and appearance on the ground, the CH-46 was anything but frog-like in the air. As the new primary assault helo it brought a greatly increased payload, cruising air speed, and ease of loading/unloading people and cargo . . .
As quickly as aircrews and maintenance people could be adequately trained, Frogs were deployed to RVN replacing the UH-34s in country. All went smoothly until a series of catastrophic accidents in 1967 resulted in the CH-46s being grounded. They flew only on emergency operations in RVN which could not be flown by other aircraft. Many of these accidents involved the chopper coming apart in flight, and it is easy to imagine how aircrews felt when dispatched on flights before the cause of these accidents were determined and corrective actions taken.. Even so, not one needed sortie was missed.
While the Frog distinguished itself throughout its service in RVN, surely the battles around Khe Sanh and its outposts were high points. In generally bad weather and from bases near the coastline, CH-46s shuttled throughout the mountainous Khe Sanh area. They constantly moved medevacs, people, and supplies as the tactical situation required, often under IFR conditions, all the while being strenuously opposed by North Vietnamese Army regulars... all pretense of indigenous VCs with home-made weapons had long since vanished. Operations around Khe Sanh took place over a prolonged period, severely taxing the endurance of aircrews and maintenance people. That the NVA finally packed up and withdrew was due in no small part to the CH-46, her steadfast aircrews, and those who supported both.
First delivered to the FMF in 1964, the Frog was still serving over 30 years later... the Corps' primary assault chopper.
---
many of the links listed below where found through
last revised on January 2, 2003
you are visitor
---
Cattle Call medivac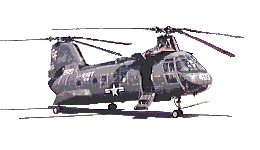 website designer
j. stephens, Sgt. (E 5)
viet nam class of '70
--->416 - jan 2 03